Nov 16, 2023 05:23 PM Central
Sonia Cacique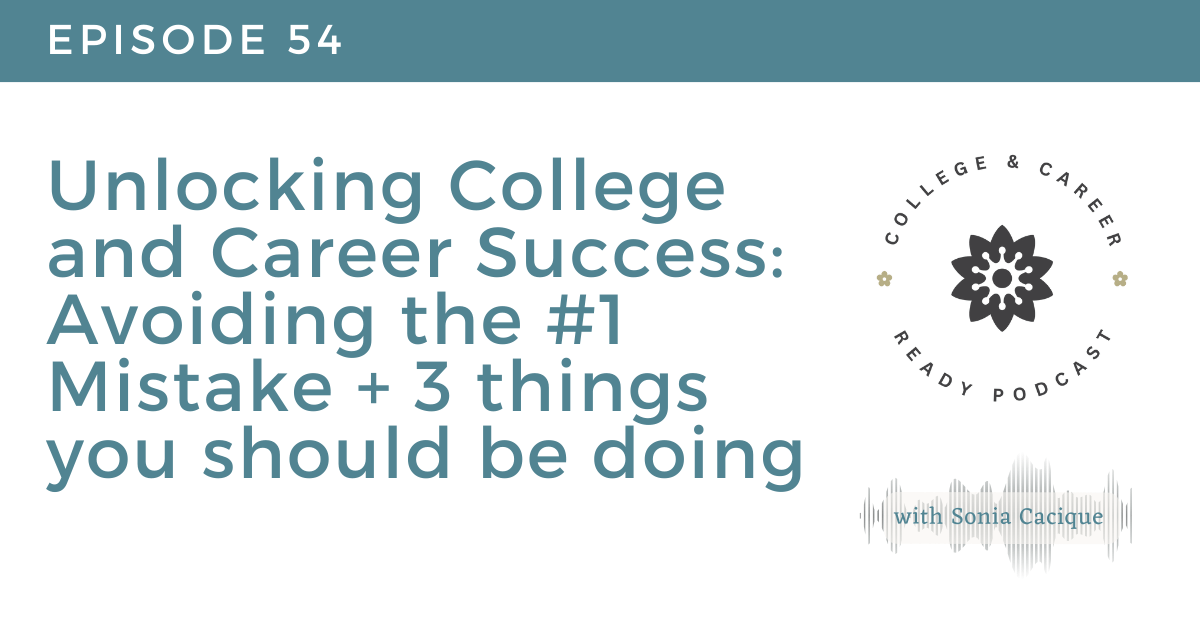 Avoiding the #1 Mistake + the 3 thing you should be doing
As parents, we often find ourselves pondering on the best ways to guide our children towards a successful future. In this episode of the College and Career Ready podcast, Sonia Cacique highlights the vital role of self-discovery in a child's college and career preparation journey.
Listen to the episode now:
Self-discovery is the first and most essential step that many parents often overlook. This process involves understanding our children's core interests, values, and dreams. As Sonia shares, this understanding is the foundation for setting up a child's successful college and career journey. She provides practical tips for facilitating self-discovery, such as asking the right questions, fostering a non-judgmental listening atmosphere, and maximizing one-on-one time with the child.
In this digital age where answers are readily available at our fingertips, we often find ourselves wanting to provide instant solutions for our children. However, Sonia urges parents to resist this temptation. Instead, we should focus on fostering open communication, creating an environment conducive to self-reflection, and promoting independent thinking. These practices empower children to explore, discover, and understand their unique selves.
The role of parents extends beyond just providing guidance. Sonia emphasizes the importance of parents acting as part of their child's support system. This involves setting realistic expectations, instilling a sense of personal responsibility, and arming them with the right tools and resources they need for success. The aim is to foster self-reliance, an essential skill for a successful college experience.
In addition to supporting our children's journey, Sonia also emphasizes the need to create a supportive community for their college adventure. This involves sharing experiences, building a network of mentors, and finding opportunities for children to explore their career interests. This process equips children with valuable skills and insights, setting them up for success in their chosen careers.
In the end, preparing our children for college is not about picking the right college or paying high tuition rates. It is about facilitating their journey of self-discovery, guiding them towards their interests, and helping them build a solid foundation for their future. As Sonia eloquently puts it, "self-awareness is the compass that guides students towards the right college and career choices."
So, let us embark on this transformative journey together, nurturing our children's path towards a fulfilling college experience and a successful future. After all, high school should be the best years for exploration rather than definition, and parents play a crucial role in facilitating this exploration. Let's guide our children on this journey, providing them with the tools they need, while also allowing them the freedom to explore, discover, and grow.
Join the College & Career Ready Newsletter!
For most recent news, resources and services just for our community!
WHAT DID YOU LOVE MOST? I would
LOVE
to hear from you. Send me a message to
info@collegecareerready.org
and tell me
what you loved most about this episode
.

Have any suggestions as to what you would like to hear about?

Message me
at info@collegecareerready.org
SHARE IT: If you found this episode helpful,
SHARE
it with your friends on social media and
TAG ME
so I can personally
THANK YOU
! It is super simple, take a
screenshot
of our podcast or favorite episode and SHARE it on your favorite social media platform. Tell others what you loved the most and
tag me
for a special thank you!

Keep dreaming, stay present, and stay well, my friend. Remember, together we can achieve anything.

Talk to you soon!