10/23/2023 05:00 AM Central
Sonia Cacique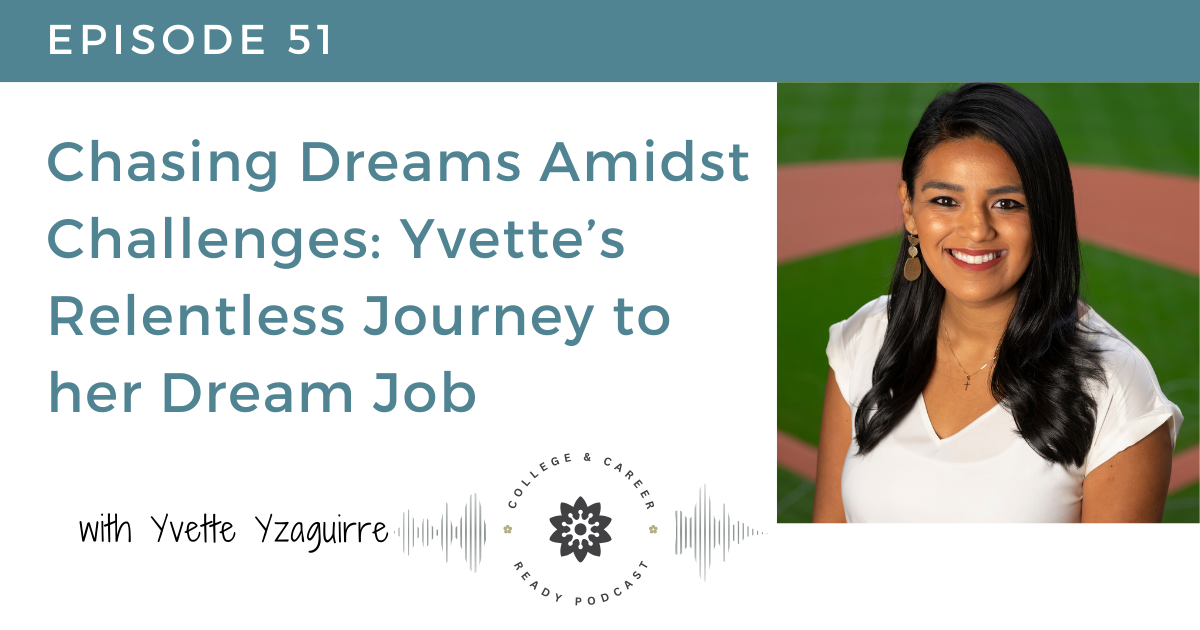 how far can your dreams take you?
What does it take to land your dream job amidst countless rejections and numerous obstacles? For Yvette, it took relentless persistence, courage, and an unwavering commitment to her passion for baseball. This episode of our podcast features her inspiring journey to a rewarding career with the Seattle Mariners, a testament to her tenacity and resilience.
Listen to the episode now:
Yvette's pursuit of a career with the Mariners was a journey filled with multiple applications, internships, and rejections. Despite never getting past the initial application stage, Yvette remained steadfast in her goal to become a well-rounded candidate. She worked tirelessly, gaining experience through various roles and even took up management positions to round out her skills.
A significant milestone in Yvette's journey was the nerve-racking three-hour interview with the Mariners. The process was arduous, but her determination paid off when she was offered a full-time position just before her 30th birthday. The news was not just a personal victory for Yvette but a joyous occasion for her incredibly supportive family.
However, life had another curveball in store. Shortly after her triumph, Yvette's father was diagnosed with prostate cancer. Despite the shock and sadness, the family's love for the Mariners brought them closer during this challenging time. The ordeal ignited in Yvette a desire to give back to others, adding a deeper meaning to her journey.
Yvette's story serves as a powerful reminder of the importance of chasing passions, creating opportunities, and nurturing meaningful connections. It underlines the value of having the courage to persistently propel towards one's dreams, no matter the odds. Yvette's journey is not just a success story; it's an empowering narrative of resilience, family support, and the relentless pursuit of dreams.
One key takeaway from Yvette's journey is the importance of enjoying the process that leads to achieving one's goals. Despite the hardships and challenges she faced, Yvette never lost sight of her passion for baseball. This passion, combined with her tenacity and resilience, fueled her journey to her dream job with the Seattle Mariners.
In conclusion, Yvette's journey to her dream job with the Seattle Mariners is a powerful testament to the importance of determination, courage, and persistence. Her story is an inspiring reminder that with resilience and a passion for what we love, we can overcome obstacles and achieve our dreams.
Join the College & Career Ready Newsletter!
For most recent news, resources and services just for our community!
WHAT DID YOU LOVE MOST? I would
LOVE
to hear from you. Send me a message to
info@collegecareerready.org
and tell me
what you loved most about this episode
.

Have any suggestions as to what you would like to hear about?

Message me
at info@collegecareerready.org
SHARE IT: If you found this episode helpful,
SHARE
it with your friends on social media and
TAG ME
so I can personally
THANK YOU
! It is super simple, take a
screenshot
of our podcast or favorite episode and SHARE it on your favorite social media platform. Tell others what you loved the most and
tag me
for a special thank you!

Keep dreaming, stay present, and stay well, my friend. Remember, together we can achieve anything.

Talk to you soon!