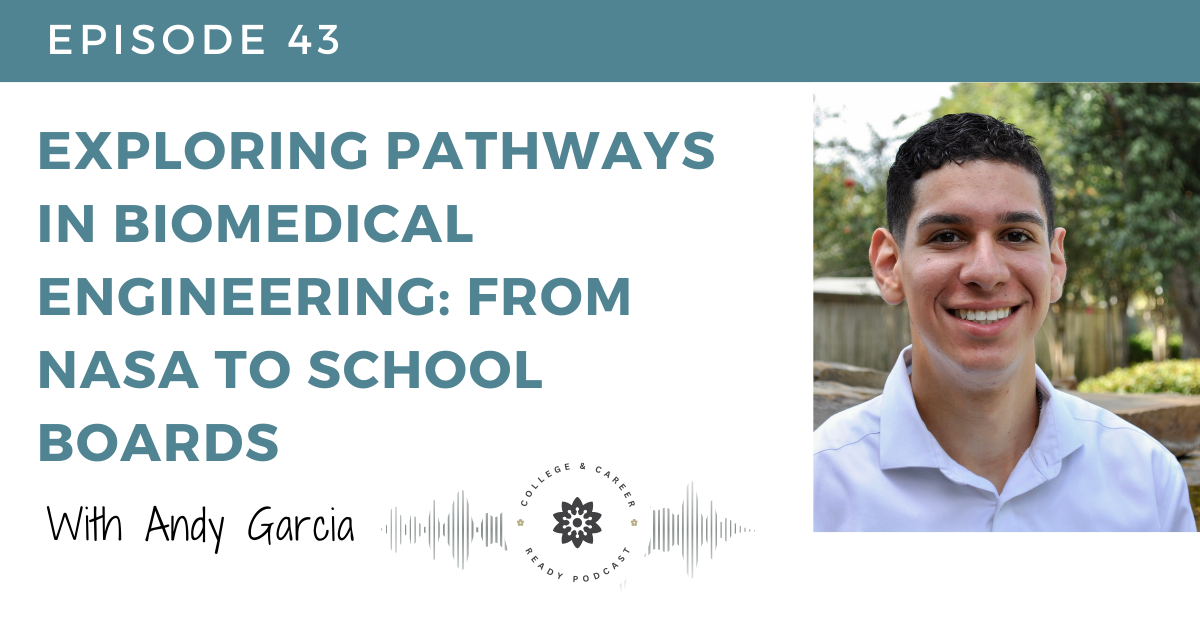 Embracing Failures and Navigating Success in Biomedical Engineering
The field of Biomedical Engineering offers a plethora of career opportunities. Our return guest, Andy Garcia, provides an insightful exploration into the various routes available to those interested in this exciting and rapidly evolving discipline.
Listen to the episode now:
Biomedical Engineering is a perfect match for those with a passion for math and science, excellent communication skills, and a keen interest in understanding the human body. From medical school to niche fields like biomedical engineering for space exploration, the career possibilities are seemingly endless. Andy's personal journey from a student to a professional in this field emphasizes the power of perseverance and the willingness to explore various paths.
Andy's strategic approach to job search involved applying early and widely to internships, fellowships, and job roles. His determination and perseverance landed him a role at NASA just before his graduation, a testament to the incredible opportunities that a dedicated approach can yield. But his career journey didn't end there.
Andy transitioned from a career in engineering to his newfound passion for education. He also took a daring leap into the political arena by running for his local school board. This transition showcases the versatility of a degree in Biomedical Engineering and the wide-ranging impact that individuals in this field can have on their communities.
Andy also candidly shares his experiences with setbacks and how they have been integral to his personal growth. His story emphasizes that failure is not a dead end, but rather a stepping stone to self-discovery and learning. This conversation shines a light on the importance of resilience, adaptability, and continual learning in the pursuit of one's passion.
Whether you're interested in Biomedical Engineering or seeking inspiration from an individual's journey through life, this podcast episode is an enriching source of information and motivation. It highlights the diverse roads in Biomedical Engineering and underscores the limitless potential of this exciting field. From the intricacies of space exploration to the intricacies of local school boards, Andy Garcia's career journey is a testament to the impact that Biomedical Engineers can have on society.
To anyone considering a career in Biomedical Engineering, or any field for that matter, Andy's story serves as a reminder that it's not the destination but the journey that truly matters. It's about embracing failure, navigating success, and above all, continuing to learn and grow along the way. The world of Biomedical Engineering is vast and varied, offering endless opportunities to those who are willing to explore it. As Andy Garcia's story demonstrates, the potential of Biomedical Engineering is indeed limitless, making it an exciting field for anyone with a passion for science, math, and making a positive impact on the world.
Join the College & Career Ready Newsletter!
For most recent news, resources and services just for our community!
WHAT DID YOU LOVE MOST? I would
LOVE
to hear from you. Send me a message to
info@collegecareerready.org
and tell me
what you loved most about this episode
.

Have any suggestions as to what you would like to hear about?

Message me
at info@collegecareerready.org
SHARE IT: If you found this episode helpful,
SHARE
it with your friends on social media and
TAG ME
so I can personally
THANK YOU
! It is super simple, take a
screenshot
of our podcast or favorite episode and SHARE it on your favorite social media platform. Tell others what you loved the most and
tag me
for a special thank you!

Keep dreaming, stay present, and stay well, my friend. Remember, together we can achieve anything.

Talk to you soon!