10/09/2023 05:00 AM Central
Sonia Cacique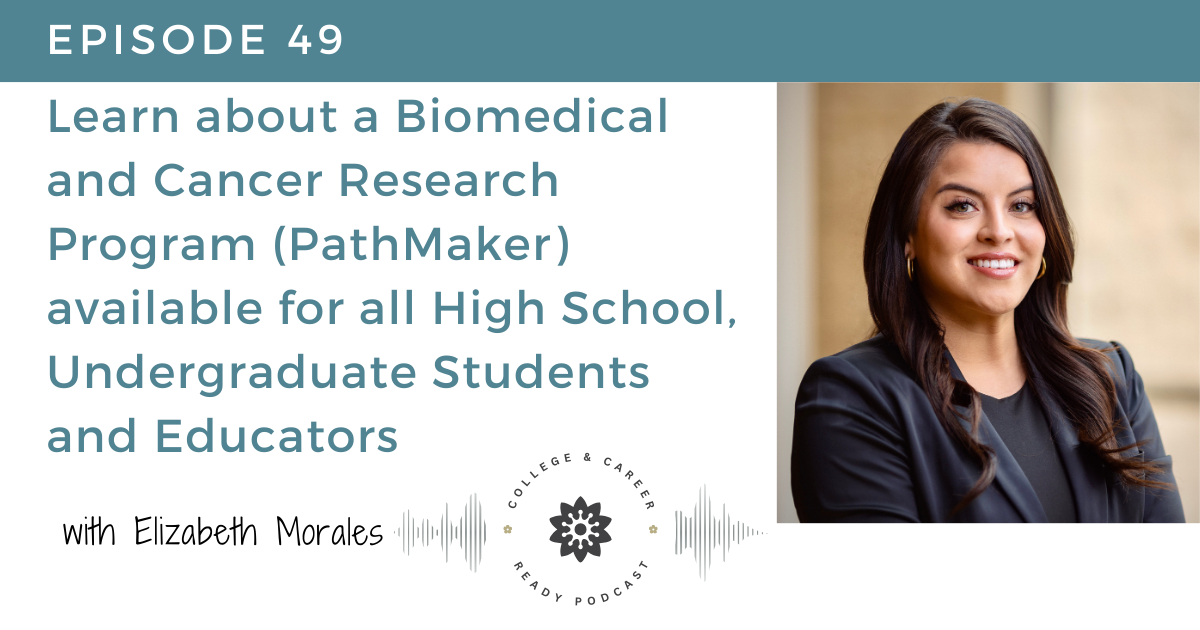 APPLY TO THE PATHMAKER PROGRAMS FOR CANCER RESEARCH
Are you a student interested in learning more about Biomedical or Cancer Research. Are you a parent wanting to help your child one day pursue medical school?
Listen to the episode now:
Here is a great opportunity available for HIGH SCHOOL, COLLEGE STUDENTS and even EDUCATORS. This is an invaluable experience for students and educators alike!
Elizabeth Morales, a first-generation student who achieved the seemingly impossible coming from humble beginnings, overcoming all hurdles to graduate from the University of Utah and is now an advocate for first-generation students. She brings her unique experiences and insights into her current role at the HUNTSMAN CANCER RESEARCH as the Programs Manager, where she champions diversity in biomedical and cancer research.
In our riveting conversation, she shares her tips on how students can become self-advocates and transform their life experiences into motivation for reaching their goals. We navigate through the application process for a two-year cancer research program that invites students throughout our country to apply! With travel, food and lodging included, this is a one of a kind opportunity. She also shares the importance of internships.
The conversation takes an interesting turn as we delve into the importance of diversity in job applications. Learn how students from under-represented communities can beat the odds through self-advocacy, perseverance, and a learning mindset.
We close this power-packed episode with a deep dive into the critical role of support systems for under-represented students. Elizabeth shares her experiences with Latinos in Action, a program committed to equipping students to become college and career ready. She discusses the impact of the program and how it's shaping future leaders. Finally, drawing from her personal journey, Elizabeth encourages listeners to reach out for help or advice and talks about the importance of a solid support system. This episode promises to be an eye-opening discourse on empowerment, diversity, and education.
Join the College & Career Ready Newsletter!
For most recent news, resources and services just for our community!
WHAT DID YOU LOVE MOST? I would
LOVE
to hear from you. Send me a message to
info@collegecareerready.org
and tell me
what you loved most about this episode
.

Have any suggestions as to what you would like to hear about?

Message me
at info@collegecareerready.org
SHARE IT: If you found this episode helpful,
SHARE
it with your friends on social media and
TAG ME
so I can personally
THANK YOU
! It is super simple, take a
screenshot
of our podcast or favorite episode and SHARE it on your favorite social media platform. Tell others what you loved the most and
tag me
for a special thank you!

Keep dreaming, stay present, and stay well, my friend. Remember, together we can achieve anything.

Talk to you soon!