Nov 7, 2023 03:21 PM Central
Sonia Cacique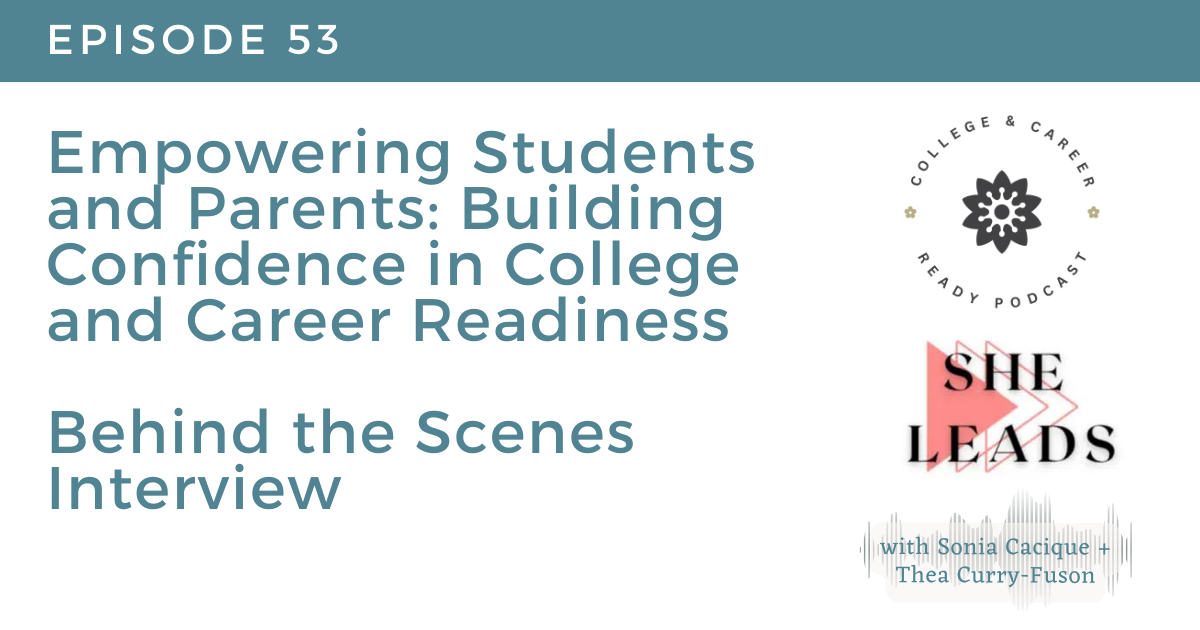 empowering students and parents: building confidence in college and career readiness
In a world that is ever evolving, the journey towards college and career readiness can be overwhelming for students. This is why Thea Curry-Fuson and I, in our recent podcast interview, delved into the power of human connection, community, and open conversations to empower students in their college and career journey.
Listen to the episode now:
As a parent and a dedicated education advocate, my mission has always been to equip students with the tools and resources they need to conquer their paths confidently. Thea Curry-Fuson, the vibrant and insightful host of the She Leads podcast, joined me in this episode to unpack the vision behind my podcast. Together, we highlighted the power of guest interviews and solo episodes that breathe life into our mission, inspiring students to believe in their potential.
The journey towards success is not a straight line. It is a winding path filled with different stories of success, each as unique as the individuals behind them. We emphasized the need for students to adapt their approach based on their personality and lifestyle. Furthermore, we discussed how podcasts can create a sense of community, spark engaging discussions, and provide solace during challenging times. This belief in the power of human connection and community is particularly important during these pandemic times, serving as a lifeline for many struggling with loneliness and mental health issues.
In the quest for college and career readiness, there is often undue pressure on students to define their future careers prematurely. We advocated for open conversations and encouragement as tools to redefine possibilities and unlock potentials. By doing so, we give our children the confidence to explore and discover their true calling.
Ultimately, the goal is to build a better world for our students and children together, reinforcing confidence in their journey towards college and career success. It's a shared responsibility that we must all take up. After all, as the adage goes, "It takes a village to raise a child."
To ensure that no student or parent navigates this journey alone, Thea and I highlighted the importance of building a community through podcasting. By sharing experiences and resources, we create a supportive space where everyone can learn and grow together. We ended the episode with a call to action for listeners to share the podcast with anyone they believe could benefit from it.
In conclusion, empowering students and building a community for college and career readiness is not just about providing resources and tools. It is about inspiring belief in one's potential, fostering a sense of community, and redefining possibilities through open conversations. Join us in this mission and let's build a better world for our students and children together.
Join the College & Career Ready Newsletter!
For most recent news, resources and services just for our community!
WHAT DID YOU LOVE MOST? I would
LOVE
to hear from you. Send me a message to
info@collegecareerready.org
and tell me
what you loved most about this episode
.

Have any suggestions as to what you would like to hear about?

Message me
at info@collegecareerready.org
SHARE IT: If you found this episode helpful,
SHARE
it with your friends on social media and
TAG ME
so I can personally
THANK YOU
! It is super simple, take a
screenshot
of our podcast or favorite episode and SHARE it on your favorite social media platform. Tell others what you loved the most and
tag me
for a special thank you!

Keep dreaming, stay present, and stay well, my friend. Remember, together we can achieve anything.

Talk to you soon!