Sep 27, 2023 09:21 AM Central
Sonia Cacique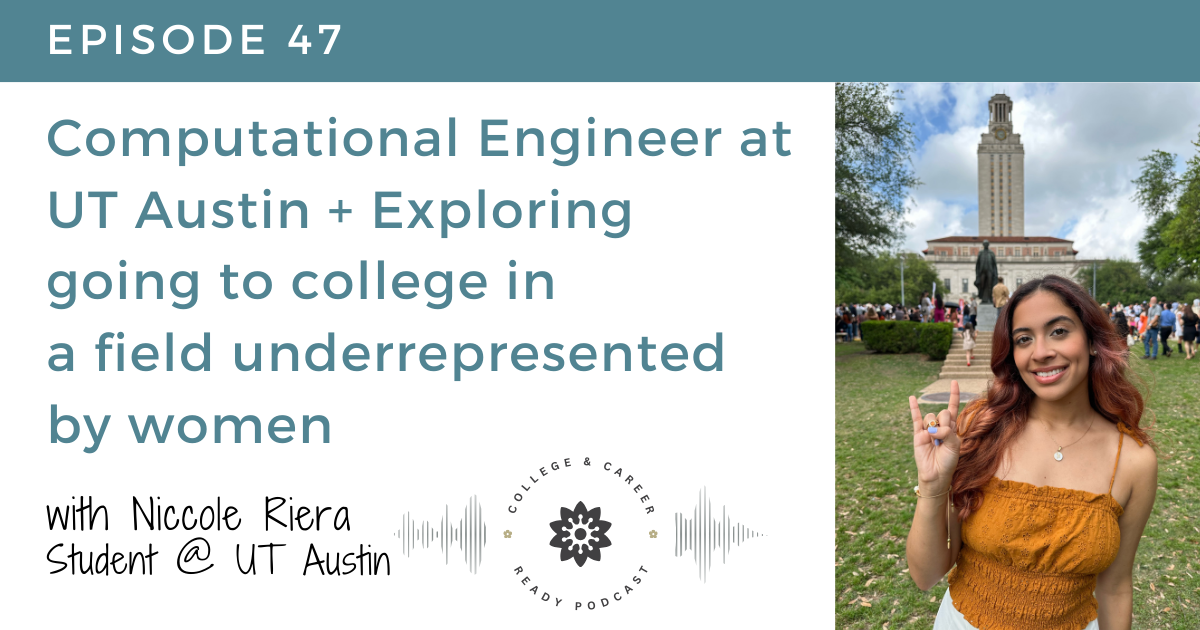 a closer look at a career in computational engineering
Navigating through high school and choosing a career path can often feel overwhelming. In our latest podcast episode, we chat with Niccole, an entering senior computational engineering student at UT Austin, who shares her journey of making this pivotal decision. Surprisingly, Niccole initially was determined not to follow in her parents' engineering footsteps. However, her path took an unexpected turn at a music production camp, where her fascination with the software used sparked an interest in understanding its mechanics, thus leading her towards computational engineering.
Listen to the episode now:
The shift from music to engineering might seem stark, but for Niccole, it was a harmonious blend of her passions. Her journey is a perfect example of how exploring diverse interests can lead to unexpected career paths. This exploration also underscores the importance of staying open to various career possibilities during high school, a time when students often feel immense pressure to decide their life's direction.
An important part of Niccole's university experience has been networking and making herself stand out at career fairs and expos. She emphasizes the significance of starting this process early, as it sets the foundation for potential job opportunities in the future. For those seeking internships, Niccole suggests leveraging events like career fairs, where you can pitch yourself directly to potential employers.
In her conversation, Nicole also dives into her exciting internship journey at Oxy, an oil and gas company in Houston. The internship provided her with invaluable real-world experience and opportunities to apply theoretical knowledge in practical scenarios. Niccole underscores the importance of being curious, asking questions, and seeking help – strategies she used to overcome challenges in her physics classes.
Nicole's journey also offers valuable insights into choosing a university and applying for scholarships. Her experiences demonstrate the importance of considering multiple factors, including the quality of professors, available resources, and the specific courses offered for the chosen major. She also touches on the financial aspects of university life, offering advice that could benefit many students.
In conclusion, Niccole's journey serves as an inspiration for students grappling with career choices and university decisions. Her story emphasizes the importance of exploration, staying open to various possibilities, and the value of seeking help when needed. It reminds us that it's okay not to have everything figured out in high school and that everyone's path is unique and often unexpected.
Join the College & Career Ready Newsletter!
For most recent news, resources and services just for our community!
WHAT DID YOU LOVE MOST? I would
LOVE
to hear from you. Send me a message to
info@collegecareerready.org
and tell me
what you loved most about this episode
.

Have any suggestions as to what you would like to hear about?

Message me
at info@collegecareerready.org
SHARE IT: If you found this episode helpful,
SHARE
it with your friends on social media and
TAG ME
so I can personally
THANK YOU
! It is super simple, take a
screenshot
of our podcast or favorite episode and SHARE it on your favorite social media platform. Tell others what you loved the most and
tag me
for a special thank you!

Keep dreaming, stay present, and stay well, my friend. Remember, together we can achieve anything.

Talk to you soon!